Goji and Other Products
Third, do not pick up fresh goji berry in advance. When the pesticide volatilizes and decomposes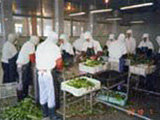 certain degree, we begin to pick up fresh wolfberry (diameter ≧0.5 cm, 80%-90% maturity ),pls do not pick when goji berry is fully 100% maturity, it will lose lots of nutrition.
Fourth, the Goji berry is dried by sunshine first, then machine dry, During the fresh goji berry is sundried, we cover some transparent plastic cloth on the fresh goji, in this way, all the microbiology is killed by natural ultraviolet radiation, then we wash them in that water and dry by machine.
Fifth, workshop worker: before entering workshop, first pick off all the metal ornaments, including earrings, necklace, rings, watches, bracelet, trim the nail and fasten the hair, wear a cap and a gauze mask, the hair can't be exposed/leak (to prevent hair dropping in Chinese wolfberry and breathe causing first air pollution), wash hands with water first, soak hands in 100 ppm sodium hypochlorite for 1-2 minutes and then rinse with water, blow dry hot wind with sticky roller through the whole body, after disinfecting hands with 75% alcohol, worker can come into the selection workshop.
Sixth, ozon and UV sterilization to reduce microbiology level.
Detail production flow for your reference: Pick raw materials--Clean pesticide residuces--Bake--Remove handle--Class grade in shock stainless steel, and remove dust--Ozone sterilization machines-Metel detector—Packaging.